BOLIVIA: GENERAL INFORMATION INTEREST LINKS
Bolivia Tourist Routes
.
Real Cordillera
Illimani
At 6 432 masl, IIlimani is one of the most famous snow-capped mountains in the Real Cordillera and a challenge to even experienced mountain climbers, for whom it is reserved. Located south of the city of La Paz, it can be reached by the 36 km-long Ventilla highway. Trekking expeditions, as well as horseback riding are available in the nearby area, while sports fishing is practiced in the region's lakes.

Mururata
Mururata, located 87 km east of the city of La Paz and rising to 5 775 masl, is known for its lovely landscapes, as its foothills give way to the yungas, or warm valleys. The climate in the area is cold and fairly dry and appropriate for mountain climbing, trekking and just enjoying the fauna and flora of the region.

Huayna Potosí
EThis snow-covered mountain is an impressive and attractive pyramid of ice. At 6 088 masl, it is easier to climb and its peak can be reached in only two days, starting in the Zongo valley.

Chacaltaya
This handsome snow-capped mountain 36 km northwest of La Paz rises 5 344 masl and can be visited throughout the year. A hardtop road leads part of the way and the rest is unpaved. Specialized tourist transportation is available. The Bolivian Andean Club has set up a base camp with all the comforts and sports and basic skiing are available. The view from the summit is spectacular, covering all of the geographic diversity of the region, from Huayna Potosí and the Condoriri, to Lake Titikaka and the vast high plateau on the horizon.

Caminos Prehispánicos
These roads were built by cultures that preceded even that of the Incas. Each differs as to its degree of difficulty. They cross a variety of ecological levels rich in fauna and flora, with rivers, lakes and lagoons. Examples are El Choro Road (3 days), which crosses part of the Cotapata National Park, the Takesi Road (2 days), the Reconquistada Road (3 days), the Yunga Cruz Road (3 days) and the pre-Hispanic Irupana road (3 days), located in the Northern and Southern Yungas Provinces of La Paz Department.

The more adventurous can take the Camino de Oro, or Gold Road, (7 days), which starts at Sorata, passes by Tipuani to reach Guanay. The Kallawayas Pre-Colombian Road (8 to 14 days) in the northern part of the Department in the Apolobamba Cordillera is equally difficult.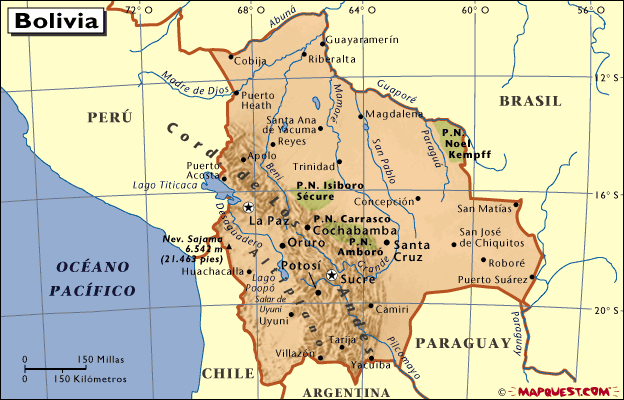 ---